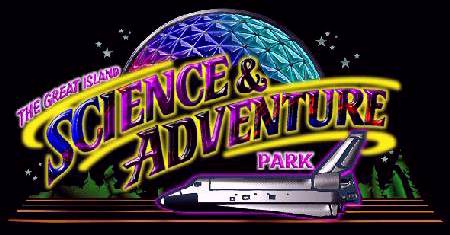 We apologize for the late notice. The decision has not been easy for us. This was the first and the largest science center in Atlantic Canada and we truly enjoyed sharing a love of science with our many visitors.
As to the future of the park, we are not sure that the closure is final. In the coming year we will rethink the concept and investigate all of the options.
Bart and Patty Bourne
"At last, an intelligent attraction for Children" (Customer comment)

Hands on science in a park setting... What a concept !
Science Centers take many forms but this is certainly one of the most unique. The park combines a Science Center, Planetarium, Dinosaur Museum and other science stuff, (like a full-size walk-thru Space Shuttle Replica) with a whole range of outdoor activities which challenge the mind as much as the body. Located off of Canada's East coast, on beautiful Prince Edward Island, this combination of man-made exhibits, and a natural setting, provides a wonderful classroom to experience and appreciate all aspects of science. To learn more about the "Neat Stuff" at the park, click on one of the following:
Tell me more about (click on word)

Location

Full-size Space Shuttle Replica
Science Center
Our recycled Planetarium
Dinosaur Museum
The Adventure Forest
Other Outdoor Activities (Kayaking etc)
The Archaeological Dig
Science Camps
Introductory Adventure Courses
About the Creators Bart and Patty
Season, Hours of operation, Pricing Info
School/ Group rates
Links to other worthwhile sites
---
You can E-mail us at mail@sciencefun.com but be warned a reply may be long in coming because there is only two of us and we are always quite busy! We would appreciate comments, good or bad, on our site and suggestions are always welcome.