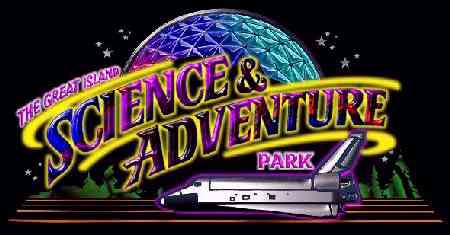 About Bart and Patty
(Can you spot them on the top of the planetarium?)
Have you ever wished that you owned a Science Center, or a Dinosaur Museum, or a Planetarium, or a Theme Park? We started out with goals something like these and through these dreams, some luck, and a lot of hard work we pretty well achieved them.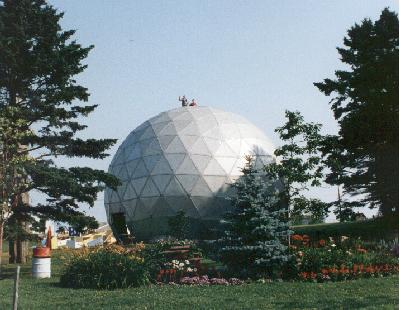 As I (Bart) approached the end of my career as a flying instructor in the Canadian Air Force, I looked around and decided that maybe I should get involved in something to interest kids in science. There wasn't a Science Center in all of Atlantic Canada. With my background in flying, I decided to start the concept by building a full size replica of the Space Shuttle, complete with flight deck and crews quarters, and then put the science center inside the cargo bay! About this time, I met Patty, we fell in love( ahhh), got married, (more ahhs) Patty sold her greenhouse business ( are you sure this is a good move?), and together we embarked on our science park.
Probably the most unusual thing about our science center is that we are not a public institution. Our "Park"is a family operation which we designed and built ourselves. (Actually in size and scope we are one of the largest Science Center complexes East of Montreal and North of Boston). We did have a lot of workers assisting us with the physical stuff but most of the unusual concepts are ideas which we have dreamed up on our own. It's certainly not the Ontario Science Center or Disney Land but we like to think it combines the best of both of these concepts .... Hands on science in a Park setting.
With my flying background, I tend to be interested in the physical sciences and Patty, with her greenhouse background and related educational and life experiences is more interested in the natural sciences. The two of us enjoy understanding how the world around us works. We seem to thrive on explaining scientific principles to others. I guess the park is our way of sharing our interests with others.
We hope that you enjoy our web site and if you are ever in our area you might enjoy a day at our park. PS. If you have a neat site and can link us up, we would appreciate it.
Thanks, Bart & Patty
---
You can E-mail us at mail@sciencefun.com but be warned a reply may be long in coming because there is only two of us and we are always quite busy! We would appreciate comments, good or bad, on our site and suggestions are always welcome.

---